Redefining Transportation Options for Disabled Students in Chicagoland
In the bustling metro area of Chicago, booking accessible transportation options often becomes a challenging nightmare for disabled students. But there's a glimmer of hope: Non-Emergency Medical Transportation (NEMT).
This blog uncovers the challenges faced by disabled students and wheelchair users, and illustrates how NEMT transforms accessibility, creating a brighter and more inclusive future.
The Challenges Faced by Disabled Students in Chicago
Getting around Chicago can be a maze of challenges for disabled students. The city's public transport system can feel like an obstacle course. Although there are initiatives put in place to help ease things for commuters, there's still a lot of room for improvement when it comes to safety and comfortability.
But there's a game-changer in town: NEMT services. With these accessible and reliable transportation options, students gain the freedom to pursue education, social connections, and academic success, without the worries of getting around.
Imagine having a reliable friend who's always there when you need a ride. That's what Non-Emergency Medical Transportation (NEMT) services are for disabled individuals. They're all about making life easier by providing safe, comfy rides to crucial places.
But these services aren't just for getting to and from medical appointments.
NEMT goes the extra mile with special vehicles, trained drivers, and detailed planning — providing personalized rides for wherever and whenever the passenger needs to go. This ensures that disabled individuals can get to their classes, family gatherings, doctor's visits, or simply places they'd like to explore around Chicagoland.
How NEMT Services Benefit Disabled Students
Navigating life's important journeys should be a breeze, especially for those with special needs. Non-Emergency Medical Transportation (NEMT) services are here to make that happen.
NEMT is all about convenience, ensuring timely and stress-free trips to crucial destinations. Safety? NEMT's got that covered too, with trained drivers and well-maintained vehicles. Students won't have to worry about getting to classes or activities at the University of Chicago, Northwestern University, Illinois Institute of Technology, or any school in the area.
Looking to give your students more accessible transportation options? Sign up for a
corporate account with BriteLift
, and gain access to easier ride managing, tracking, and more features.
BriteLift: Trusted Transportation Options in Chicago
So, we've journeyed through the world of NEMT services and the challenges disabled students face in the bustling city of Chicago. BriteLift's NEMT services bring convenience, safety, and inclusivity to the transportation options of these students with personalized handicap-accessible rides. Ensuring access to vital healthcare, education, and improved lifestyle as well.
Booking with BriteLift is easy! Get free ride quotes and book a ride by phone, through our online booking platform, or our free mobile app. And guess what: additional passengers ride free, so parents or chaperones are welcome to join their children or wards on their trips!
Explore NEMT and share this blog to extend our support. Get in touch and join us in creating a more inclusive future for our students. Thank you for being part of this journey with us.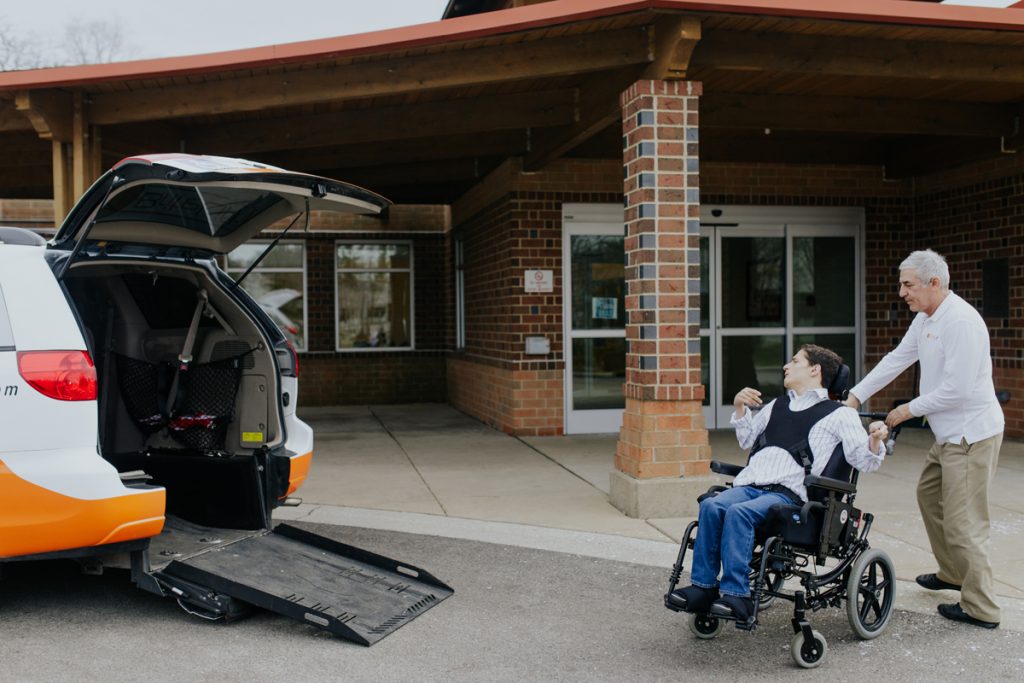 Vehicle appearance may vary depending on availability. BriteLift is a transportation broker, with rides fulfilled by independently owned transportation service providers.