Manage & Pay for Family with BriteLift
Making Arranging Accessible Transportation Easy for Family Members
BriteLift – Safe, Easy & Reliable Wheelchair Accessible Transportation In Chicagoland & Southeast Wisconsin
Take care of mom, dad, daughter, son, or any family member that might need wheelchair-friendly transportation around The Chicagoland & South-East Wisconsin Metro Areas. Easily pay for their rides with BriteLift's online booking tool.
Much of our adult community is busy with personal and professional commitments, and managing everything that's expected can be overwhelming. The BriteLift online booking & tracking tool is a resource that takes away the stress of worrying about transportation for family members away.
Cover the bill for mom's ride to her regular appointments, trips to the grocery store, or any destination. Easily book multiple rides online, through BriteLift App or call in reservations. Know that she's safe with BriteLift – trusted by medical establishments all over Chicago and SE Wisconsin.
How Much Will My Wheelchair
Accessible Ride Cost?
Enter your starting location, destination, and time of travel into the
BriteLift booking tool to get a free quote.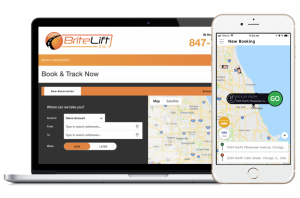 Advanced Reservation, Multiple Stops
& On-Demand Rides
With BriteLift you can reserve multiple rides in advance. You can manage all your rides online or with our mobile app. Reserving in advance means you'll always have a dedicated vehicle at the exact time you need it.
We also strive to provide on-demand rides where possible. Call our customer service center to discuss your plans.
For all the latest news & offers, sign up to our newsletter
Not sure which solution fits your needs?