Whether it's shopping, a doctor's appointment, dinner with the family or a trip to the airport, BriteLift takes you where you want, when you want. Convenient. Safe. Reliable.
Accessible Rides for Any Trip
Whether you're going out for a medical appointment, or for leisure, BriteLift provides safe & reliable
wheelchair-ready rides within Chicagoland and SE Wisconsin.
Non-Emergency Medical
Transportation (NEMT)
Accessible Rides for Persons with Disabilities
Bariatric Wheelchair Accessible Transportation
Accessible Leisure Transportation
Transportation for Family Members
Corporate Transportation Accounts
School Transportation Accounts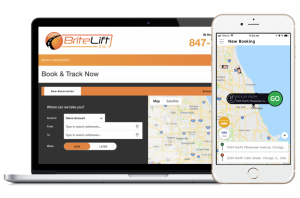 Advanced Reservation, Multiple Stops
& On-Demand Rides
With BriteLift you can reserve multiple rides in advance. You can manage all your rides online or with our mobile app. Reserving in advance means you'll always have a dedicated vehicle at the exact time you need it.
We also strive to provide on-demand rides where possible. Call our customer service center to discuss your plans.
Contact our friendly team to discuss where you would like to go
We're happy to answer any questions & help you book your next ride with BriteLift