Bariatric Wheelchair Accessible Transportation
Safe, Easy, & Reliable Accessible Transportation In Chicagoland & SE Wisconsin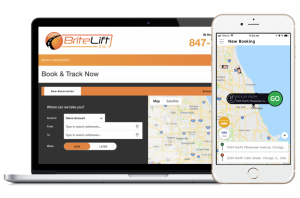 Advanced Reservation, Multiple Stops
& On-Demand Rides
With BriteLift you can reserve multiple rides in advance. You can manage all your rides online or with our mobile app. Reserving in advance means you'll always have a dedicated vehicle at the exact time you need it.
We also strive to provide on-demand rides where possible. Call our customer service center to discuss your plans.
What Our Service Includes
BriteLift is your trusted transportation broker with a network of transportation service providers catering to customers in wheelchairs, bariatric and electric wheelchairs, scooters, as well as accessible buses that securely seat up to 5 wheelchairs. Just let our staff know your specific needs when reserving your ride.
Our network of transportation service providers won't just meet you at the door and drop you off at your destination. All drivers will provide you with full service.
Whether that means assisting you into our vehicle, assisting you into your appointment, or arriving punctually after your treatment to assist you throughout your return home.
From the moment you land at the airport, you can experience the freedom and comfort of traveling at will. Our network of transportation service providers meet and greet you at Chicago's O'Hare (ORD), Midway (MDW) airports and General Mitchell International Airport (MKE) in South-East Wisconsin. 
Get a wide range of customized transportation solutions with BriteLift. Our clients appreciate the extra care, accessibility, and door-through-door service.
How Much Will My Wheelchair Accessible Ride Cost?
Enter your starting location, destination, and time of travel into the BriteLift booking tool to get a free quote.
Not sure which solution fits your needs?