BriteLift School District Transportation
Want to sign up for a school account? Call us on our 24/7 customer service center, or fill out the form below.
Learn how we work with businesses like yours to provide custom transportation management.
BriteLift feature in Daily Herald
Northbrook transportation company ups safety measures to protect students
The safety of our children comes first. Now, more than ever, schools and families in our state have been laboring to ensure safety as students get back to school, and BriteLift has been at the forefront of that.
Local schools have trusted BriteLift to provide transportation for years. Serving individuals with varying needs, BriteLift vehicles are equipped to seat both ambulatory and wheelchair passengers. Accessible vans and buses are dispatched based on specific needs.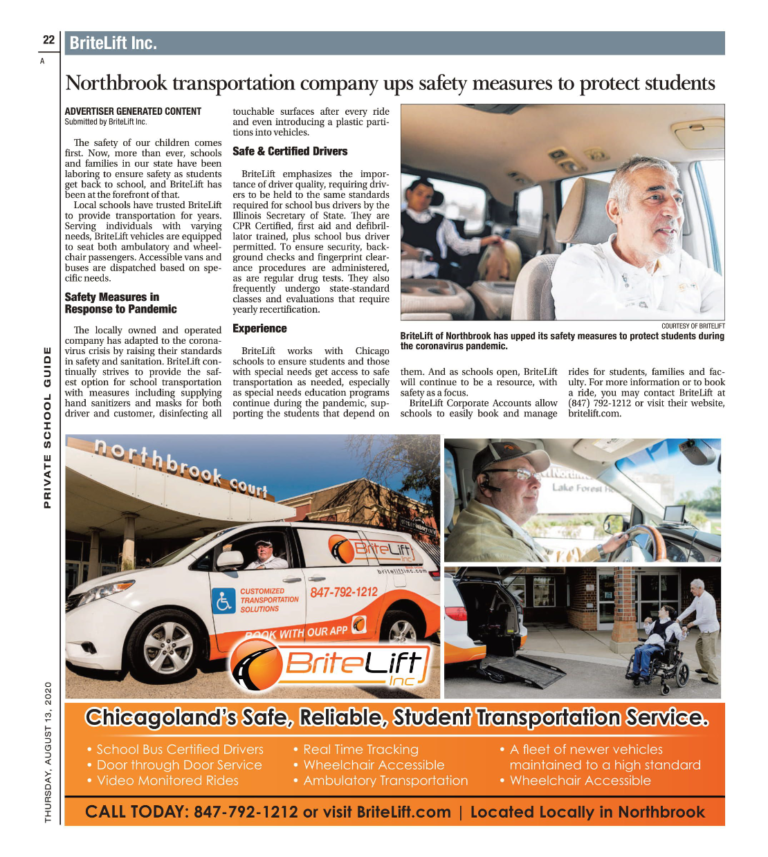 BriteLift is Chicago's Trusted Wheelchair Accessible Vehicles during Pandemic
Every BriteLift Experience is complete with:
Door Through Door Service
Our drivers go above and beyond to provide assistance to customers that could use a hand getting groceries, into buildings for medical appointments and more.
‣ A fleet of newer vehicles maintained to a high standard
‣ Including Bariatric Wheelchairs and Scooters
‣ Live GPS Tracking
‣ 24/7 Customer Service Call Center located in Chicago
‣ Dedicated Account Manager for Corporate Accounts
BriteLift's Wheelchair Accessible Vans
Bariatric Transportation
Wide ramp allows access for bariatric wheelchairs and scooters
Multiple Wheelchair Travelers
Safely seats up to 2 wheelchairs
Non-Wheelchair Passengers
Also provides seating for ambulatory passengers and care providers
Learn about how easy BriteLift's corporate online booking tool truly is. See how establishments all over the Chicago Area are benefiting from conveniently having all your reservations in one place. BriteLift Youtube Channel
"I had struggled to find a non-emergency transportation service for my dad that provided door to door service, advanced booking and drivers willing to go the extra mile. Then a family friend recommended BriteLift. Not only does BriteLift meet all these criteria and more, I know that I can trust that my dad will arrive to his destination safely. My mind is at ease when my dad travels with BriteLift."
"BriteLift provides a much-needed service to my mom. She needs reliable, trustworthy, and respectful transportation service. BriteLift provides all this and more! In the past I've had two options, I have either driven her and picked her up myself or stayed with her at appointments, events or church visits. I know my mom is safe and taken care of with BriteLift. We are so grateful."
"An excellent company to work with. We use BriteLift's services for our clients whenever possible. From the ease of booking, the professionalism of their drivers, timeliness, and willingness to go above and beyond, this company is a true asset to seniors."
"BriteLift is wonderful!!! The ease with which we booked our trip was quite refreshing. Also, it has been difficult for us to locate reliable wheelchair accessible vans for my husband's transportation. They were a few minutes early, patient and helpful. The whole experience was just wonderful."
"This is Nancy…Love our driver. He is so great! On the first appt, I didn't get there on time (traffic) and he took her into the office. Shame on me! I don't know his name but I recognized him today and acknowledged how wonderful I think he is..So happy that we have found you. It's not easy to find wheelchair accessible transportation…"
"Thank you. I was very pleased again with BriteLift – from the staff, the prompt, efficient, professional and personable service. Roman was enjoyable to ride with and the van was very comfortable. He easily transferred my wheelchair into his vehicle. I will use the service again and recommend to my friends."
"I just want everyone to know how glad I am that BriteLift is in existence. It has made my life so much simpler and so much happier. I cannot thank BriteLift enough."
"This is a new life for us all and has been a huge challenge. Your company has assisted us greatly in making this a bit better for his independence."
"I've used this company numerous times. The drivers are pleasant to work with. They are either early for pickup or right on time. I've never been late for an appointment while using this service. I wouldn't hesitate to recommend!"
"Wonderful service. The staff is friendly and they do a great job keeping me posted about my driver. Drivers are helpful and professional. I highly recommend them. Safe and secure rides with great care is what you can expect."
"I had a great experience with BriteLift today. They helped me out with a last minute transport for my grandpa to his doctor appointment. The scheduling process was very easy and I was immediately emailed an invoice that included all of the details. The driver arrived early and was very polite and helpful in getting my grandpa into the van. We didn't know exactly how long the appointment would be, but the driver was very kind and helpful and told us to simply call BriteLift when he was done, and he would be able to go pick him up. I will definitely be using their services again!"
" One of my patients referred me to Britelift when I mentioned needing a car service for my brother, who is recovering from surgery on top of his existing health conditions. With the risk of COVID-19, I was concerned about hiring a company to transport him. So, I was so happy to learn how Britelift is sanitizing their vans after taking every single customer, and they have a plastic partition installed in their cars, just like at the grocery store. I called and spoke to Nancy, who took the time to answer all my questions, and I even received a follow-up email directly from the founder with his direct number in case I had any other questions."
" Had an excellent experience with BriteLift for airport transportation. Drivers were on time, courteous and very helpful. Traveling with a handicapped family member can be challenging but this company made the trips to and from the airport stress-free. Thank you very much. Certainly plan to use you again in the future."
" During my family's recent tragedy, there were so many details that needed to be planned and done in a rush. An important part of this was needing transportation for my father. I had researched many options and I am thankful that I found Britelift. This company is a small team, but they were not only dependable, punctual and a safe, they were also compassionate at every point of contact. Their services and commitment to customer care helped make a difficult time manageable."
"From start to finish this was a fantastic, caring, professional door to door service. I had to take my wheelchair-bound mother to a medical appointment but had no idea how long it would take. The dispatch office helpfully explained several options -- and I was pleased to learn that I could book a driver and van for a dedicated 2 hour period. Our driver was incredibly courteous and helpful. He was there well before the appointment time and was there waiting when we needed him for the return trip. If only I'd known about this company and their service before!"
BriteLift is Chicago's Trusted Wheelchair Accessible Vehicles during Pandemic
For all the latest news & offers, sign up to our newsletter