Inclusive Handicap Accessible Vacations around Chicagoland
Are you planning for an unforgettable and accessible journey? Explore essential travel tips for handicap accessible vacations, where BriteLift's support and guidance ensure a seamless and memorable holiday experience for families with older adults and people with disabilities.
Preparing for an Amazing Adventure
Planning a vacation is an exciting adventure, especially in the amazing and colorful metro area of Chicagoland! But this can pose challenges for people traveling with disabled loved ones. It's crucial to ensure that every aspect of your trip is well-prepared, from accommodations to transportation.
Where to start exploring?
When you explore Chicago, it's good to know that everyone can join in on the fun.
Navy Pier: Enjoy accessible delicious gourmet brunch, lunch, and dinner options on an exciting River Cruise. Check out the tall Navy Pier Ferris Wheel which can also accommodate wheelchair users!
Get a Chicago Deep Dish Pizza: Be careful not to start a debate when it comes to Chicago pizza! According to Eater Chicago, pizzerias from decades-old spots to relative newcomers continue to push boundaries and make an impact on the local scene. When it comes to food, Chicago is number one!
Visit the Parks: Millenium Park, Maggie Daley Park, and Grant Park in the Chicago Park District all offer paved pathways, accessible seating, and beautiful spaces this time of year.
Get Inspired with Art: Places like the Art Institute of Chicago and the Museum of Contemporary Art offer not only incredible feasts for the eyes and senses but also easy access for everyone to enjoy.
Plan your handicap accessible vacations with ease through BriteLift. Pre-book multiple rides, and get free quotes to make your travel experience convenient and worry-free.
How to get around
Planning handicap accessible vacations is important, and choosing the right transportation matters a lot. BriteLift's Non-Emergency Medical Transportation (NEMT) services are here to help. With rides accessible for disabled people, seniors, and wheelchair users (standard and bariatric), you're in good hands.
Plus, additional passengers ride free! Enjoy door-through-door transportation services!
BriteLift also makes it easy to get to and from the airport, whether it's Chicago O'Hare (ORD), Chicago Midway (MDW), or any airport in between! We even go as far as Milwaukee Mitchell International Airport (MKE) in Wisconsin. Make your travel choices wisely, and let your adventure begin!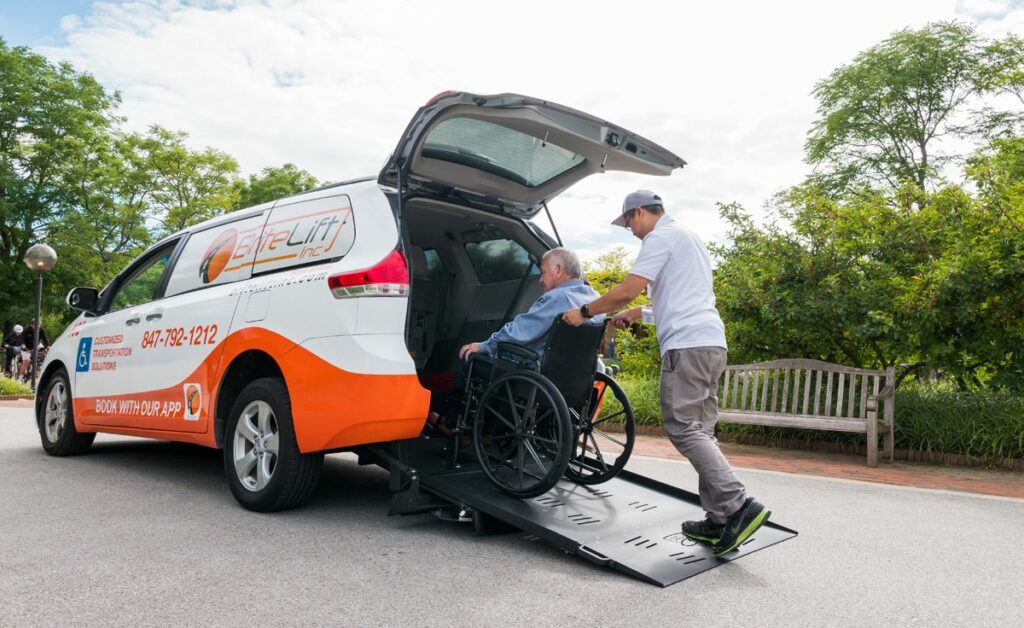 Chicagoland's Handicap Accessible Vacations with BriteLift
Chicagoland offers a world of inclusive and memorable experiences for all travelers, and planning your handicap accessible vacations has never been easier.
Take the first step towards your unforgettable adventure in Chicagoland. Get in touch with BritetLift now, and embark on a journey where accessibility meets excitement, and where every traveler's dream becomes a reality.