BriteLift understands what you are going through, and is actively working to make sure you lack nothing when you book non-emergency medical transportation with us. Choosing physical therapy handicap transportation with BriteLift doesn't only mean getting a remarkably comfortable ride but also getting a treatment that is tending to all of your needs – from finding the best solutions for your physical limitations while on the go to making sure you don't lack independence of movement, requests, route changes, etc. in any way. Because, why would you, right?
Read more: Ambulance Service and NEMT: What's the Difference?
How to Navigate Rides to Appointments and Get the Best Transportation to Physical Therapy in Good Spirits
In terms of handicap transfer to physical therapy and to doctor's appointments, here are a few things the BriteLift staff put together as crucial elements of well-appointed rehabilitation therapy transportation. The list below is based on years of experience working with numerous clients with similar difficulties to yours:
Well, that's not entirely true – you've got us! BriteLift is making sure you are tended from your doorstep to the final destination, altogether with any side points you need to stop at on your way to physical therapy.
Every BriteLift-approved chauffeur is not your typical driver. Sure, they know the road like the back of their hand, but they are also trained to assist patrons with physical and mental disabilities, in a way you get fully serviced and feel good in the process.
Want to go on a business trip? Done! Need the nearest wheelchair airport transfer? Sure! Looking for casual nearby handicap transportation to a social outing? Say no more! From years of experience and extensive training to politeness that goes beyond the expected, your driver will be your pal on the road, your right hand, or your super cool, silent companion.
Call the people who always answer the phone! The number?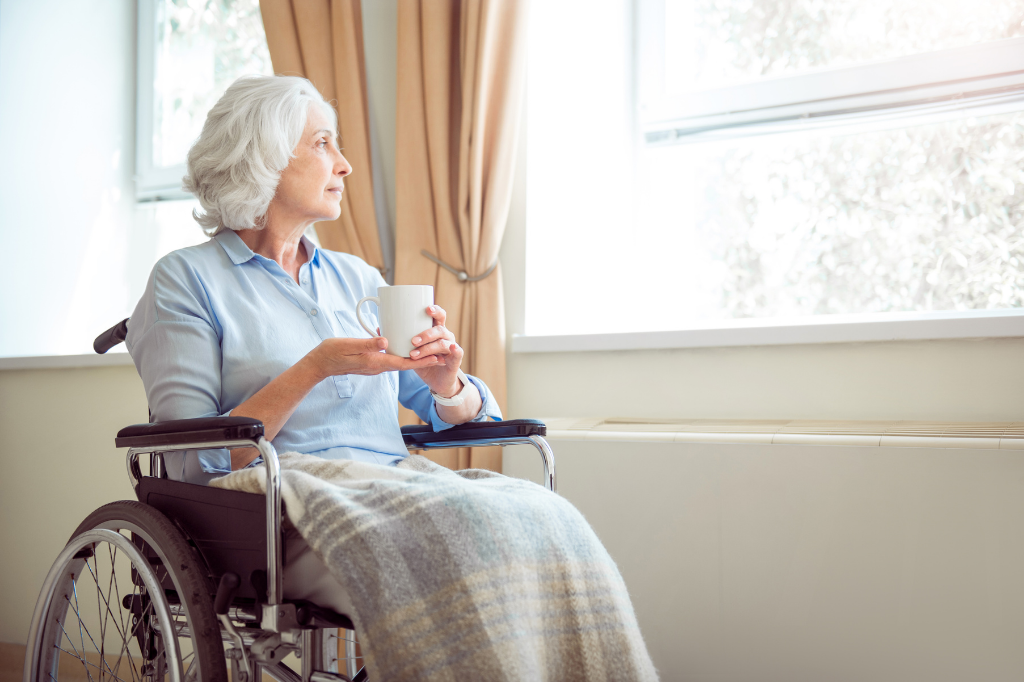 Whether it's shopping, a doctor's appointment, dinner with the family or a trip to the airport, BriteLift takes you where you want, when you want. Convenient. Safe. Reliable.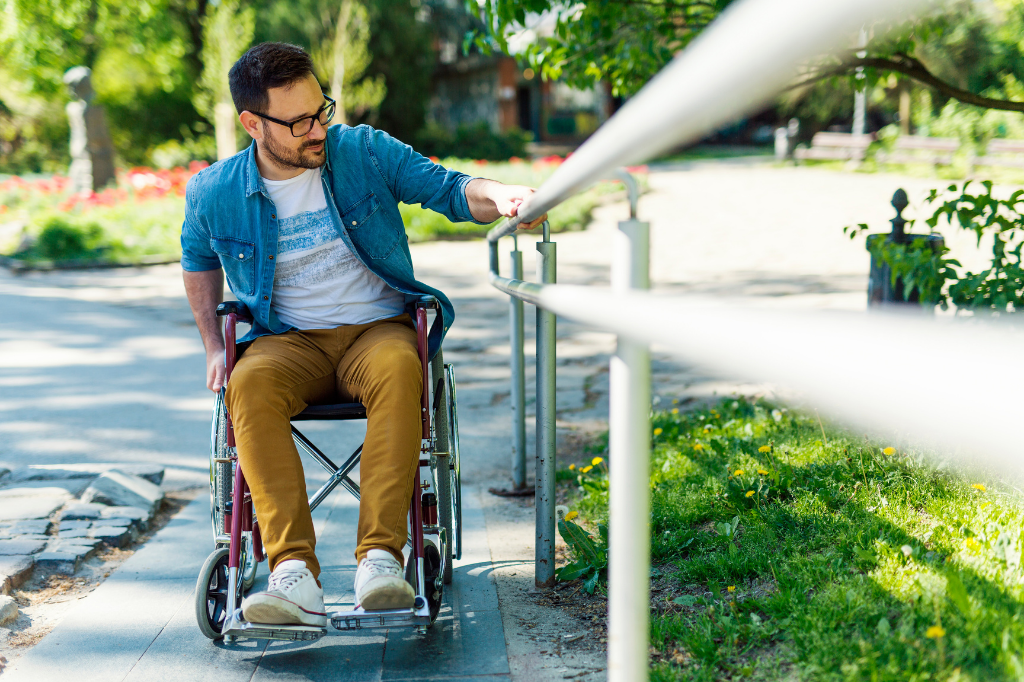 I Prefer My Independence over Relying on Anyone from My Family
Hey, you are not the first one and definitely not the last! It's completely understandable that you want to do things independently of anyone, and BriteLift is here to help you do just that.
Whether you require the nearest physical therapy wheelchair transportation in the area or you need a regular handicap taxicab to physical therapy, BriteLift will meet your requests. With a collective of staff that are all equally committed to making your on-the-road experience the most comfortable and most pleasant possible, there's nothing to worry about. You'll be transported from A to B in a jiffy, without feeling like you are disrupting anyone.
Read more: Gaining Independence by Utilizing Wheelchair Accessible Transportation Services
My Funds Are Currently Limited, and I Don't Know If I Can Get Medical Transportation near Chicago with the Money I Have
Worry not! BriteLift is known for its reasonable rates, fantastic service, and a fleet of vans that's better than you've ever envisioned. Give us a call, and talk to your appointed customer service agent to find the best non-emergency medical transportation solution for the budget at your disposal.
But what does medical transportation cost? You'll be presented with several options that agree with what you need, at the rates you find okay. So, next time you think to yourself "I need a ride to my doctor's appointment, but don't have the money for it" remember that BriteLift has the best rates in Chicago, and will find a way to organize your transportation to physical therapy.
This arrangement applies to rides for seniors to medical appointments, too.
At the Moment, I Have Physical Limitations and Can't Drive
Instead of challenging your current disability by taking regular public transportation, go with BriteLift's door-through-door transportation services that are available for anyone who can't drive, use public transportation, or doesn't have someone to drive them to physical therapy regularly.
You'll get a personal driver to handle the road and help with anything that you need, including assisting you in and out of the car and straight to the clinic and/or your home. Surround yourself with a team that wins, and you'll never feel frustrated again.
Read more: Four Best Wheelchair Accessories
Book Handicap Transfer to Physical Therapy in Chicago Today
When you need the nearest non-emergency medical transportation to take you to physical therapy or any other type of doctor's appointment, don't even go to asking yourself how to get medical transportation – because you now know you can book a trip with BriteLift and rely on us for all-things-medical-transportation.
BriteLift's Accessible Trips Around Chicagoland and SE Wisconsin
BriteLift provides comfortable wheelchair-accessible rides whenever passengers need to get to local hot spots, their regular medical visits, and more.
Additional passengers ride free in ADA Compliant BriteLift vehicles. So caregivers and family can ride comfortably with those using wheelchairs, 24/7.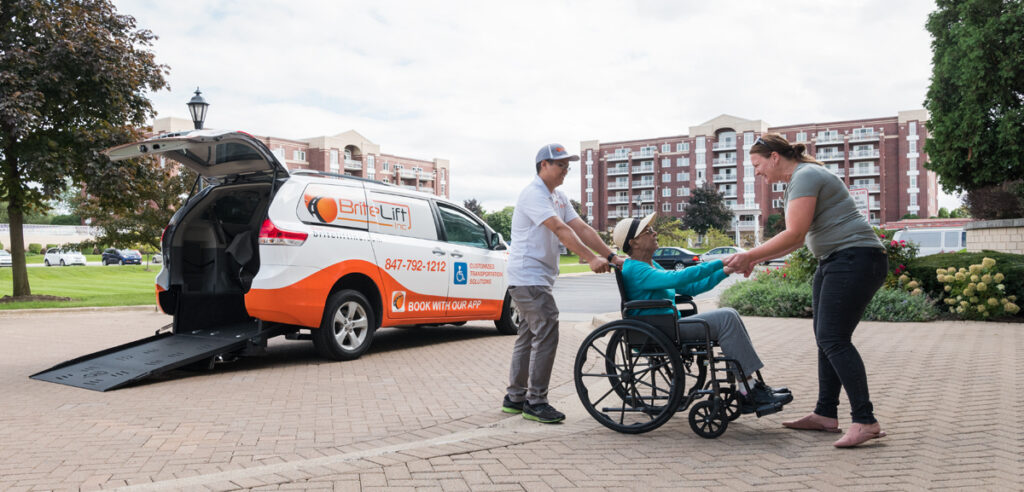 Book multiple rides in advance by using BriteLift's online booking tool or through our call 24/7 for customer service. Download the BriteLift App for easy management of ride booking, tracking and payments.