The Most Trusted Transportation for People with Disabilities
In the realm of accessibility, Non-Emergency Medical Transportation (NEMT) services stand as a crucial lifeline for disabled individuals residing in Chicago and Southeast Wisconsin.
According to Chicago.gov
By age in the Chicagoland area:
1% of people under 5 have disabilities.
4% of people 5 to 17 have disabilities.
5% of people 18 to 34 have disabilities.
10% of people 35 to 64 have disabilities.
23% of people 65 to 74 have disabilities.
43% of adults 75 and older have disabilities.

According to Wisconsin.gov
By age in Wisconsin:
9.5% of people 18-64 years old have disabilities.
30.9% of people age over 65 have disabilities.

This blog explains the pivotal role of handicap accessible transportation for the elderly in assisted living facilities and people with disabilities. We'll shed some light on how NEMT empowers the senior and disabled communities to access healthcare and maintain their independence. Let's explore the transformative impact of NEMT in ensuring a better quality of life.
Breaking Barriers to Healthcare
For disabled individuals, accessing healthcare or going to the grocery store can often be a challenging endeavor. Even our wheelchair-bound loved ones in assisted living facilities face obstacles that go beyond medical conditions.
Assisted living facilities often partner with NEMT companies like BriteLift, as they ensure seamless coordination for transportation needs, offering scheduled rides with multiple booking options.
These services ensure that medical appointments, therapies, and treatments are within reach, fostering a holistic approach to health and well-being.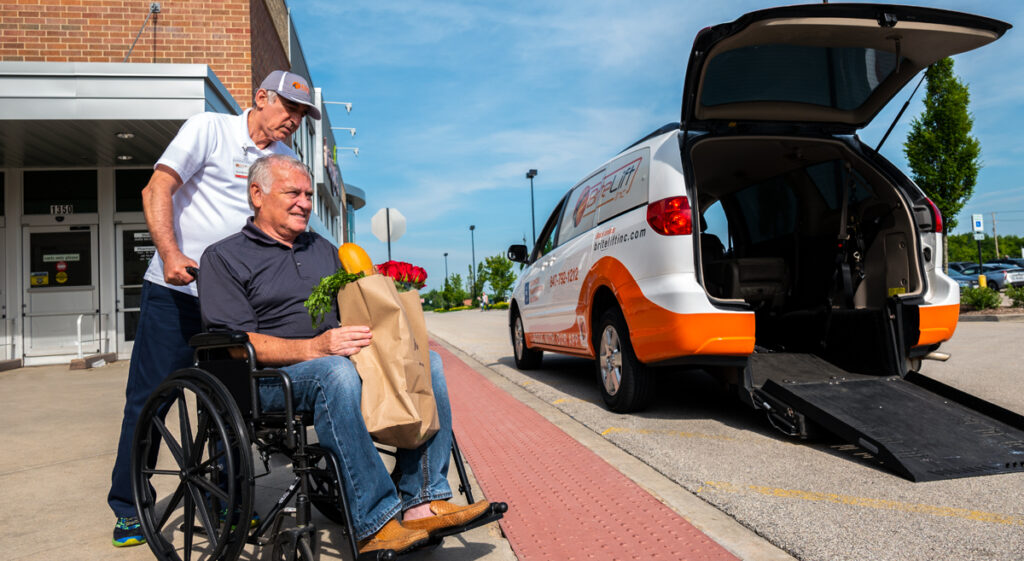 Vehicle appearance may vary depending on availability. BriteLift is a transportation broker, with rides fulfilled by independently owned transportation service providers.
Maintaining independence is a fundamental aspect of a fulfilling life. NEMT prioritizes preserving the dignity and autonomy of its passengers. By offering transportation for people with disabilities, it empowers residents to travel freely. Whether it's for appointments, social engagements, or recreational activities, there wouldn't be much need for relying on loved ones. This newfound sense of freedom contributes to their overall well-being and sense of agency.
Seamless and Comfortable Journeys
BriteLift understands the unique needs of disabled individuals. Its NEMT services emphasize attentive care, ensuring passengers are comfortable throughout the journey. Plus, we provide door-through-door services, getting passengers straight from their doorstep through the doctor's office. The focus on comfort, safety, and punctuality makes transportation for people with disabilities a positive experience.
But above all else, safety is paramount with BriteLift. For example, wheelchair transportation for people with disabilities must adhere to strict safety protocols and ADA compliance. BriteLift offers rides for passengers with standard and even bariatric wheelchairs. Passengers can trust that their well-being is prioritized at every step. With reliability at the core, NEMT services offer peace of mind, knowing that they will arrive at their destination promptly and safely.
Professional Transportation for People with Disabilities
BriteLift's NEMT services and transportation for people with disabilities have redefined accessibility in Chicagoland and Southeast Wisconsin. By addressing the challenges of transportation, these services enable residents to break free from limitations, access healthcare, and embrace life's opportunities.