Proper healthcare services are one of the key elements for a functional society. Unfortunately, not everything is easy when it comes to organizing transportation for people experiencing health difficulties. For instance, something as simple as taking a medical appointment can take a real toll on people who can't drive to the doctor's themselves, and therefore have to suffer uncomfortable transportation options or depend on their family, friends, or local community organizations to transport them.
Still, not everything is lost. When the above-mentioned options fail, you can rely on non-emergency medical transportation with BriteLift to fill in the gap and help you experience a comfortable and convenient ride to and from your specified location if you need transport for wheelchair patients.
How to Know If I Am a Good Candidate for Non-Emergency Medical Transportation with BriteLift?
Although accessible transportation with BriteLift normally focuses on providing transportation to passengers with visible disabilities, the company's staff is also offering services to people who are temporarily waylaid by surgery or an acute injury as well as to people with special needs and/or invisible disabilities.
Since due to weakened muscles and post-procedure pain medication post-surgical patients aren't allowed to drive until cleared by their healthcare provider, BriteLift is there to offer the most professional wheelchair-accessible transportation in the Chicago and Southeast Wisconsin areas. So, whether you have a disability or you are currently with an injury and need part-time assistance in the way you travel, you are the right candidate for non-emergency medical transportation with BriteLift.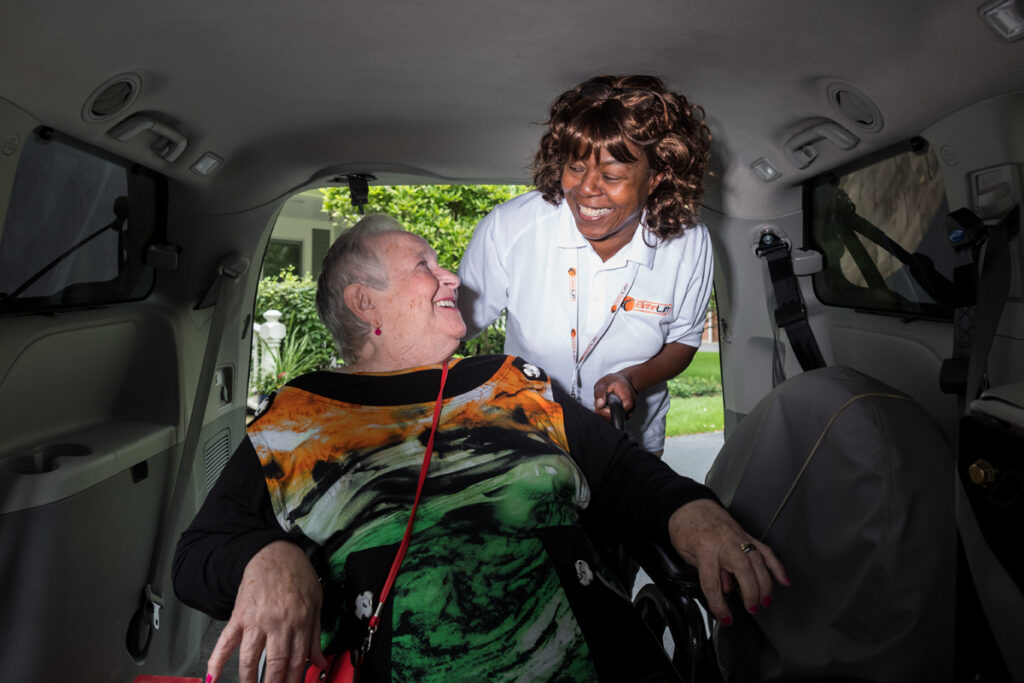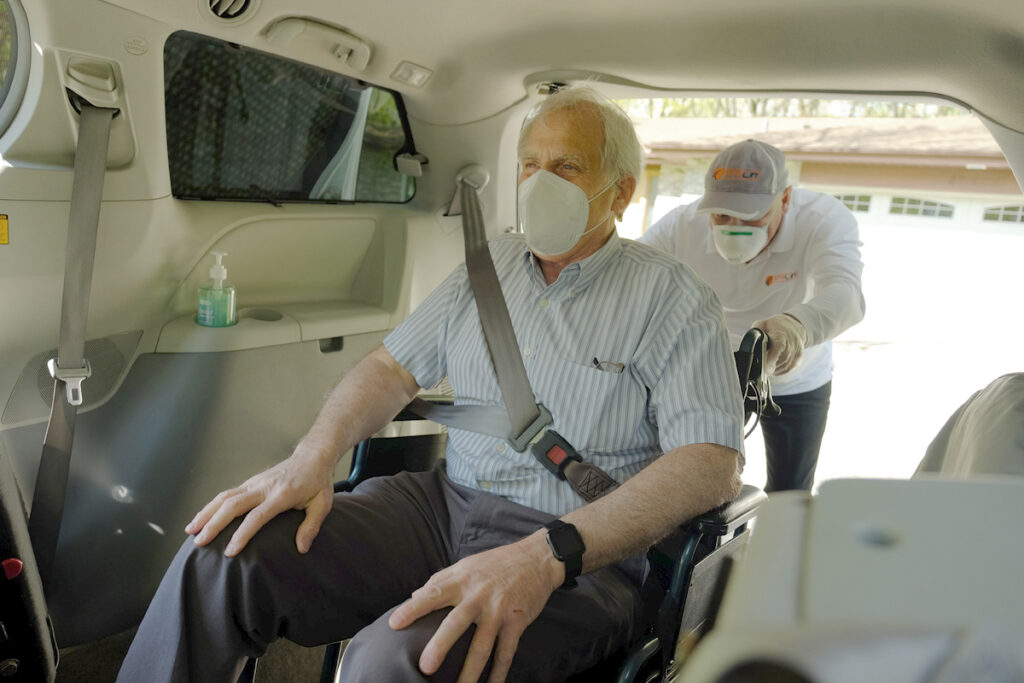 What Are the Medical Transportation Service Benefits?
The main benefit of booking this kind of non-emergency medical transportation service is that you are not only getting a ride from the hospital/appointment to your home, but you can schedule a regular medical transportation to a doctor's office, follow-up appointments, support meetings, to physical therapy, organize safe medical transportation for seniors, etc. What is more, every ride is assisted by a healthcare professional. Your in-transport companion would be an educated, knowledgeable, and experienced staff member to look after you as you ride to and from your specified destination.
This type of arrangement is made with your full comfort and safety in mind, as well as the idea of helping you easily overcome challenges you'd normally have when boarding a public bus or any other form of public transportation.
How Is Non-Emergency Medical Transport Changing the Face of Transportation of Those with Disabilities And/Or Injured?
Regardless of how positively charged and well-spirited a person with disabilities is, not everything in their lives depends on that same attitude. Unfortunately for people with disabilities, society is not yet fully accustomed to adjusting public spaces to everyone's needs. This predicament can often cause numerous challenges for people using a wheelchair or other mobility aids. However, the good news is that recent decades have encouraged a number of helpful advancements around, helping people with disabilities circulate easier.
Aside from local communities making buildings easier to enter and exit, plenty of transportation services have started introducing wheelchair-accessible transportation in their regular taxi and van offers. On that note, if you or a loved one needs accessible transportation for a single ride to a social outing or regularly, chances are you'll find them easier than a few years ago. BriteLift is Chicago and SE Wisconsin's finest non-emergency medical transportation, making sure its clients stay well pampered, cared for, and properly handled.
Whether it's shopping, a doctor's appointment, dinner with the family or a trip to the airport, BriteLift takes you where you want, when you want. Convenient. Safe. Reliable.
BriteLift Gives Patients in Chicago and SE Wisconsin Options
Medical Transportation Help
1. Relief from the Physical Struggle
If you have a disability but are currently using public transportation or a standard vehicle to get to places, you know better than anyone how many hurdles you have to overcome to reach your final destination. This is precisely why you should consider making private accessible transportation your primary transportation choice. Specially designed for those with disabilities, BriteLift vehicles offer utmost comfort, easy access in and out of their seats, and pleasant rides no matter how long the trip is. What is more, their vehicles are very adjustable, so you'll never again risk an injury by climbing into a car or off of it.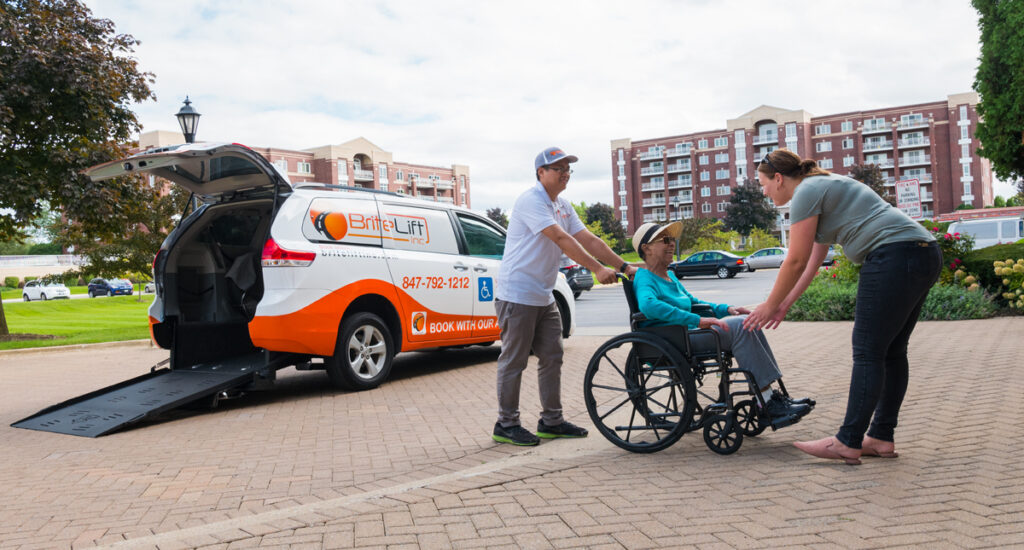 2. Reliable Transportation
No matter how well-adapted for accessibility, public transportation tends to be very unpredictable and often uncomfortable. With such circumstances, you aren't far from missing your appointments, check-ups, or even last-minute meetings. What is more, despite all their love and commitment to you and your well-being, your friends and loved ones can't always be available to be there for a ride. Fortunately, wheelchair-accessible transportation is just a call away, so you can avoid all the potential discomfort and stress. You can book a wheelchair-friendly ride to and from the airport or a train station as well as anywhere else in the vicinity.
3. Professional Help
BriteLift drivers who operate the company's accessible vehicles are experienced in the way the equipment works and ways to work with people with disabilities. So, instead of relying on a relative to lift you into a car or adapting to a public bus ramp, leave it to the trained professionals to help you with your transportation.
BriteLift is your primary Chicago and SE Wisconsin's non-emergency transportation provider, operating near your location and further. Everyone at BriteLift works passionately so that people with special needs, seniors, and veterans respectively can get where they want to go without experiencing any transportation limitations!
Patients, their families, or medical providers can easily reserve a ride 24/7 a number of ways: Call, Book Online, or Download the BriteLift mobile app.
For safe and wheelchair-friendly transportation in Chicagoland and SE Wisconsin, you can always rely on BriteLift.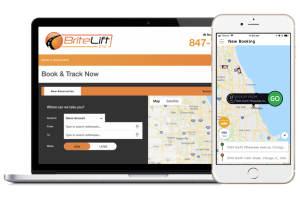 Advanced Reservation, Multiple Stops & On-Demand Rides
With BriteLift you can reserve multiple rides in advance. You can manage all your rides onlineor with our mobile app. Reserving in advance means you'll always have a dedicated vehicle at the exact time you need it. We strive to provide on-demand rides where possible. Call our Customer serveice center to discuss your plans.