Living with a mobility problem or some other physical limitation is not the end of the world, and it doesn't mean giving up on your career (goals), but it does mean having to adjust to a few things. 
Whether your physical impairment is a result of an accidental injury, a congenital defect, or a neuromuscular disease, you still have the possibility to build a super satisfying (and successful!) vocational life. Also, whether or not you use a wheelchair, here are some ideas suitable for people with a physical limitation.
NOTE: For everyone who is in need of non-emergency medical transportation in Chicagoland and Southeast Wisconsin, BriteLift is your best option. In case you are wondering where to get wheelchair-accessible transportation nearby or how to secure adult day services transportation, BriteLift is your go-to transportation provider. 
You can count on a fleet of non-emergency medical vehicles such as wheelchair-accessible vans, along with trained and experienced staff, and customizable services that are tailored per your individual needs. BriteLift offers the option of booking medical transportation for vets with disabilities and for seniors, too.
So, whether you are going to work, a doctor's checkup, need an airport transport, going to see your family and friends or you are attending a special occasion, call your trusted medical transportation company at 847-792-1212 to secure your accessible transportation services and get the most professional medical van driver there is. Get to your destination safely and on time, every time.

If you utilize a wheelchair, working in an office can be a great choice (if the office building you want to work in is wheelchair-friendly, naturally). Good job opportunities include positions in accounting, human resources, law, customer service, creative sector (such as content writing, designing, etc.), and even engineering.
Just because you are in a wheelchair, that doesn't mean your creativity has to be compromised. If you are one of the creatives—whether you love to write, compose, work as a designer, painter, web developer, IT expert, etc.—don't stop now. You can explore a variety of creative jobs, and choose to work in an office, from home, in a creative studio, you can also sell your own works or give lessons.
For everyone who considers themselves a great communicator and/or has experience in teaching, picking up the option of teaching in a school is an ideal career choice, especially because most schools are wheelchair-accessible. Online teaching (ESL or other) is also an option—if you'd rather work from home.
Although computer programming does take time to master, if you are a whiz with computers maybe it's time you used the ever-growing IT area to your benefit, and turn it into a career! Pretty much anything related to the IT industry allows you to work from a home office, and pays very, very nice! In time, you can expand your engagements from freelance to full time, and maybe even start your own company… you never know!

Whether it's shopping, a doctor's appointment, dinner with the family or a trip to the airport, BriteLift takes you where you want, when you want. Convenient. Safe. Reliable.
Careers That Let You Work from Home
Working from home is always a great option, even when you don't have to work from there, right? The coziness of it all sure is one of the best reasons most people have opted for setting up home offices and running their business from there. 
Add the benefit of reduced expenses on transportation, lunching out, all the time wasted in transport… and you've got a winner! Working from home is great for someone with physical disabilities because your home is probably already set up to accommodate all of your mobility issues, so you don't have to stress about it.
Other than the examples listed above, some of the jobs that are usually covered from home are everything from computer support, graphic design, and writing, to medical transcription and web development.
Average salaries:
Computer support specialists: $54,150

Graphic designers: $53,280

Writers and authors: $72,120

Medical transcriptionists: $36,400

Web developers: $74,110
With the advancement of technology along with the increase of laws concerning wheelchair accessibility in Chicago, there are more wheelchair-friendly jobs and careers than ever. Being in a wheelchair is no longer a prerequisite (sort of) for living a quality life, going after your desired career or having a great dating life. Things are shifting, and more and more jobs are more about someone's skill than their physical (in)abilities.
Define your dream, and chase it – don't let anything stop you! And, you know it already – no more of those Where can I rent a wheelchair-friendly van when you need accessible transportation close by sorted. BriteLift is the transportation company you can always count on! Contact us today and book a trip, easily!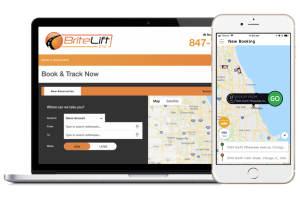 Advanced Reservation, Multiple Stops & On-Demand Rides
With BriteLift you can reserve multiple rides in advance. You can manage all your rides onlineor with our mobile app. Reserving in advance means you'll always have a dedicated vehicle at the exact time you need it. We strive to provide on-demand rides where possible. Call our Customer serveice center to discuss your plans.