BriteLift is Open &
Serving You
The health and safety of our drivers and passengers is our top priority at BriteLift
BriteLift COVID-19 Response
In response to increased risks associated with the COVID-19 pandemic, BriteLift has raised standards in safety and sanitation to best provide transportation to our wheelchair community.
We understand that these individuals require reliable transportation to their regular medical appointments, testing, procedures, or any other needed destinations. BriteLift also considers the fact that underlying conditions that may exist leave patients vulnerable during this uncertain time.
Please call (847) 792-1212 or email reservations@britelift.com and our representatives will walk you through the process.
Protecting our Drivers & Passengers
Setting a New Standard in Sanitation
Along with the additional adaptations to combat the spread of COVID-19, BriteLift wheelchair accessible vehicles are equipped with cameras, and drivers are specially trained.
Trained & Certified Drivers
PASS (PASSENGER ASSISTANCE SAFETY AND SENSITIVITY), First Aid and CPR Certification, School bus endorsement. All drivers are drug tested (pre-employment and random), and go through yearly physical and pre-employment background checks.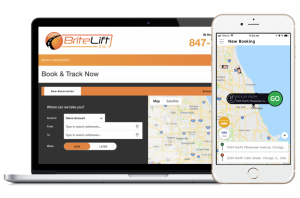 Advanced Reservation, Multiple Stops
& On-Demand Rides
With BriteLift you can reserve multiple rides in advance. You can manage all your rides online or with our mobile app. Reserving in advance means you'll always have a dedicated vehicle at the exact time you need it.
We also strive to provide on-demand rides where possible. Call our customer service center to discuss your plans.
Wherever you need to be, you'll get there safe and on time with BriteLift.